Throughout the poesphere this week there has been the unfortunate buzz regarding Amiri Baraka being hospitalized and, thankfully, recovering fully from an innominate illness.
When the news presented itself I braced for the worst; I have an unfortunate, and extensive, familiarity with the loss of those who were very close to me and consequentially anticipate dreadful plans of reality to unfurl. We all poem and pray for the best now Amiri; to your health and continued words I raise my glass to you.

—
When I'd read that he was in good health and released from the hospital my thoughts drifted apart and away from concerns related to Baraka. Instead I strayed to the concept of post-death homage, eulogies, funeral poems and memorializing of the deceased; a form of memorializing that is exceptionally relevant to the world of poetry and certainly profound in its respect of the dead – but it is as well also imperative to maintain our own well being. Nevertheless, I pressed further into this idea of homage and wondered what it is that drives us to create in this medium in the first place.
Robert Pirsig, I believe, in the afterword of Zen, addresses this question succinctly; when considering what it was about the death of his son, Chris, that impacted him so deeply…
"What had to be seen was that the Chris I missed so badly was not an object but a pattern, [and while] the larger pattern remained, a huge hole had been torn out of the center of it, and that was what caused all the heartache. The pattern was looking for something to attach to and couldn't find anything. That's probably why grieving people feel such attachment to cemetery headstones and any material property or representation of the deceased. The pattern is trying to hang on to its own existence by finding some new material thing to center itself upon."
The reverence of the deceased through poetry is a way of filling that human-shaped hole in the pattern as we understand it. We have an image of, an idea of, a concept of, a pattern representing someone whom we have lost and when that concept grows a distortion or has a boot-heal-shaped hole where the heart was – then for our sanity and for the memory of those lost – we must fill it.
I wondered to Donne's Holy Sonnets and mumbled through a cigarette butt, "death, be not proud, though some have called thee / mighty and dreadful, for thou art not so…"
I considered myself with Carl Solomon in Rockland.
I puzzled over who would, "bear the whips and scorns of time / [when] he himself might his quietus make / with a bare bodkin," instead.
Although the answer is entirely dependent upon subjective taste and preference – what poetry, what word, what eulogistic writing is suited well for the praise of our dead?
I found myself, lastly, with the Ndebele praise poetry known as the, "Izibongo Zamakhosi."
In brief, this poetry form is a historical preservationist's narration regarding the successes and achievements of a clan or clan member; and accordingly, the words Izibongo Zamakhosi translate to, King's Praises. In length, however, a page I'd found and now consider to be the sine qua non source of explanation and teaching of the Izibongo Zamakhosi can be found Matebeleland.com's blog on the history of the culture and poetry of the Ndebele people.
At the age of 19 I plunged into the world of poetry via the French Quarter in New Orleans, meeting and learning from scores of brilliant writers. I learned, specifically, about the poetic form Izibongo from poet David Rowe who quickly shared with me his examples which were, astonishing, king's praises of a more modernized caliber.
The first Izibongos he shared with me were his, "Walt Whitman Izibongo," and his, "Jack Kerouac Izibongo," and explained to me that the Izibongo was a "chanting form of praise poetry read when a warrior was going off to battle or has died."
"Brilliant!" I'd thought, "to commemorate our favorite poets through chanting praises at them as if they were kings and warriors!"
It wasn't until much later, roughly 6 or 7 years later, that I began to write Izibongo's of my own and felt that they truly were the path upon which I could appropriately exalt not only my poetic idols passed but also my loved ones who deserved my praise in words.
—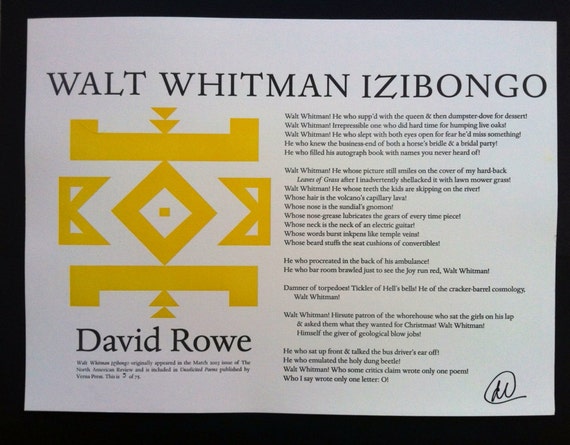 Listen to David Rowe reading, "Walt Whitman Izibongo," here.
David's book, "Unsolicited Poems," is one of the more inspirational books of poems I've read, I recommend purchasing it or borrowing it from me soon.
—
What I consider my best Izibongo to date…
Hermann Hesse Izibongo…
(for David Rowe who has to take it)
Hermann Hesse!
The man who dreams of a boxed leg, a bitten scorpion tipping the tip dribble of Goethe's magic markered on moustache and never coming up for eternity's heir!
Hermann Hesse!
Whose bleat is wisdom bellowed by the gruff in a Billy Goat's Bah-ah-ah, and who holding high Narcissus flowers is himself a bouquet of finite clopping hooves upon the Steppe Mountains!
Hermann Hesse!
Who never knew the treeless, never lain claws nor teeth to the vastless, nor scowered the cliffsides of southeast Europe, or Asia, and yet – left them, all the same, absorbed into human forms, as this sheep in wolves clothing.
Hermann Hesse!
Hermann Hesse!
Who I say knew my dreams, knew my rivers, and knew my Phoenix more than I!
Who knew Berlioz by the backwash in a spittoon.
Who knew Mozart from the saints who could not dance, but danced the same in "victory's forgotten underwear!"
Who knew Matthisson, Beethoven, and Jean-Paul Sartre by names only their Mommies could call them!
Who in '46 was noble enough for a prize.
And who in '62 was prized as a noble by "The Eternals" in some heaven for Madmen Only, some heaven that he never had a need to believe in!
Who could know folk by their lore and whose reliquary is full of bronzed tails he plucked from the back end of fairies!
Hermann Hesse!
Citizen of Switzerland!
Hermann Hesse!
Spoiled "Fuck-All" of Germany!
Hermann Hesse!
Whose very name speaks of love!
Of some vague her!
Of Thomas Mann
Of the very Hesse towns of your ex country!
Hermann Hesse!
Whose very spine IS the fulcrum of all of literature's twirling world!